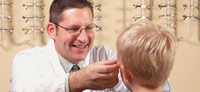 Dr. Jonathan Ashbaker
Trained at Pacific University College of Optometry.  Scroll to the bottom of the page or visit the Reviews section of the website to see what patients are saying about Dr. A. on independent review sites.  Dr. Ashbaker speaks Spanish, as does Nomarie, a member of his staff.
Read More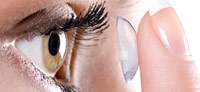 Personalized Care
Dr. A. takes time with each patient to discuss their unique vision needs.  His professional and easygoing manner puts people at ease.  He is known for helping patients have a better understanding of their eye conditions.
Eye Wear
We recently added over 300 new designer frames and sunglasses.  Choose Crizal anti-reflective coatings, Transitions photo-sensitive lenses, polarized lenses, etc.  Dr. A can also fit you with regular contact lenses, contacts for astigmatism, or bifocal contact lenses.
Read More
Serving the Vancouver, Washington Area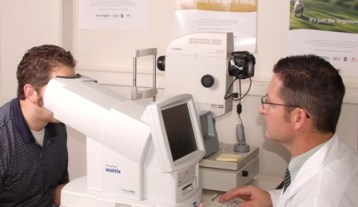 Conveniently located on East Mill Plain Boulevard a few blocks West of PeaceHealth Southwest Medical Center in the Vancouver Heights neighborhood.
Across the street from Starbucks and Dentistry on the Heights.
Experience the difference of personalized vision care with your next eye exam, children's exam, cataract surgery co-management, lasik surgery co-management, dry eye problems, vision-related headaches, diabetes, glaucoma, athletic eyewear, contact lenses, eyeglasses, and more.
Better vision has a direct impact on your quality of life. Only you can ensure that your eyes are in good health by taking time for regular vision check-ups. We offer state of the art equipment and comprehensive eye exams which are among the best you will find, designed to go far beyond simple prescription writing (although we do write and fill eyeglass prescriptions!). Regular eye exams are critical for long term vision health.
We accept most insurances including Blue Cross, Columbia United Providers (CUP), Guardian, and VSP.
Schedule an Eye Exam
Meet our Optometrist
Meet our Eye Care Team
Ask our Eye Doctor a question
Google maps and directions to our clinic in Vancouver which also serves Battle Ground, Orchards, Camas, and Fisher's Landing
I love this place. They are all so nice and personable. I would recommend this for all of my friends and their kids. We have been coming here for years and I would not change even if my insurance changed and I had to pay cash.
Thank you for such a great experience! It was so nice to have such a professional office and optometrist assist our son! It was unfortunate that we had to find out that our sons prior glass prescription was most likely not what he truly needed! I appreciate Dr. Ashbaker actually explaining what was wrong with our sons eyes! It was nice to have someone who appreciates his clients and takes the time to show it with the enthusiasm he has with his work! Thank you, again!
Very friendly and my kids are always excited when its time for their eye exam!